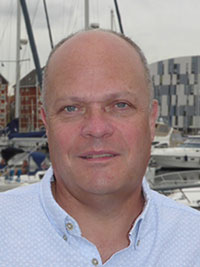 I'll come clean. Geocake is no hipster start-up. No converted warehouse HQ, no sandwich delivery guys on hover boards.
I am Jon Bryant, 'Geocake' a nom de guerre. Solution Architect and GIS Expert for hire. Working with geographic information for over thirty years I have gained unique insight into GIS technology and data products. My career spans Ordnance Survey, government and utilities: at the coal-face of helping real people visualise and explore their data via GIS applications. I am also an adept and imaginative solution architect, capable of seeing the bigger picture and guiding organisations to evolve and thrive in a complex and changing IT landscape.
I have lived through the evolution of GIS software tools. I understand the problems in harnessing their capabilities for real, also the dark arts and mantras of their suppliers. I am passionate about how GIS can reveal true meanings and my goal on any project is delivering genuine business benefit, not the pursuit of IT coolness. I can talk the zeitgeist terms of Agile, Cloud, Big Data etc while retaining a grounded appreciation of what they really deliver.
Core strengths:
strategy
solution architecture (TOGAF 9 Certified)
data analysis
innovation
problem solving
project management
Agile working
documentation
presenting/evangelising on GIS applications and benefits to all audiences
---
Knowledge:
deep understanding and practical experience with ArcGIS, MapInfo, Oracle Spatial, QGIS and Geoserver
GIS technology and data within the context of enterprise architecture
desktop applications vs. web client vs. mobile
spatial databases
geographic web services
GIS adoption across multiple sectors especially government, telecommunications and utilities
extensive experience and knowledge of Ordnance Survey digital data products
the full spectrum of geographic information sources
data analysis
Cloud deployment
---
Do not consider me for:
infrastructure build
database administration
writing code (MapBasic anyone?)
What tends to happen?
I have a long track record of designing GIS solutions and bringing them to life. In my most recent permanent role I was responsible for spatial data strategy and mapping applications at a very large UK-based telco. My most recent completed contract was with the Environment Agency as a solution architect working on a range of complex IT projects, ranging from a laboratory information system upgrade to pan-Defra GI initiatives. After taking six months out to write a novel (any literary agents out there?) I have recently (Feb 2019) started a contract with Defra working on geospatial data strategy.
I am not especially in love with technology per se. I deliver sustainable business solutions in tune with the prevailing IT strategy. My style is people-centric: no initiative can succeed without full engagement with both user community and development team. Everyone needs to understand and care about the project. This ethos underpins all work undertaken.