The inevitable map page
"More than just maps" is a familiar GIS industry soundbite. As if maps are retrograde: static, one-dimensional abstractions only understood by specialists. However, the role of maps has always been to reveal meaning and enable us to understand the world. To filter and illustrate. To convey stories, to capture the psychological impact of landscapes, to show where the treasure lies.
Maps are inextricably woven into the syntax of the information age. From cyber-geography, mapping the locations of IP addresses, turning virtual into real; to the Internet of Things, where real-world objects map themselves, turning real into virtual. Maps work deep into our psyche, and take many forms, not least the advice we give people unfamiliar with our locality when they ask the way. Maps are beautiful, they describe our history, civilisation and culture. From Peter Pan and Winnie the Pooh to Jason Bourne, maps in various forms underpin our emotional journeys.
They become an obsession. From Daily Telegraph readers bemoaning the replacement of Gill Sans with "vile Univers" on OS 1:50k (sorry, one inch) maps; to the players of augmented reality apps.
Maps are a platform for communication and collaboration. Crowd sourcing, virtual graffiti, a trail of pebbles. It's always been about maps (albeit now we can create them in real time from dynamic data).
And, in the words of T.S. Spivet, "There is more to map".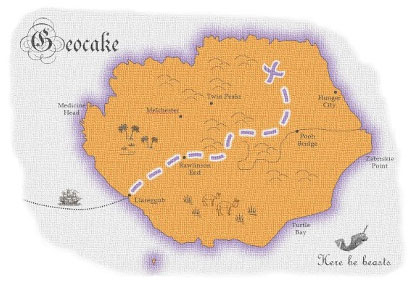 p.s. incidentally there is no relationship between my site and this mapping blog Maps R Fun but it happens to be delightful.